Multi-Faith Moving Vigil to get out the VOTE & ACT for CLIMATE JUSTICE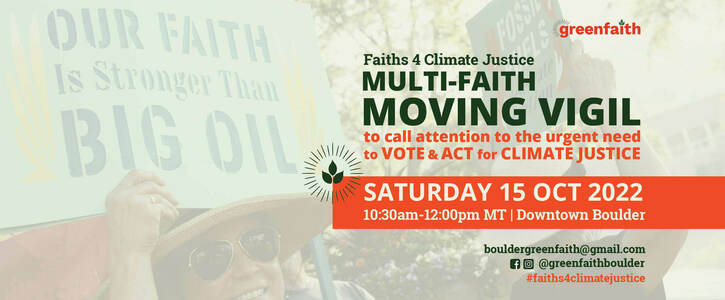 Join GreenFaith Boulder County on Saturday, October 15th in downtown Boulder for a multi-faith moving vigil with Spiritual Leaders calling for climate justice in Colorado.
Vulnerable communities in our state are already bearing the burden of inaction on the climate crisis. This is a pivotal moment for our planet and our future.
This action will call urgent attention to the need
to VOTE and ACT for CLIMATE JUSTICE.
During the moving vigil — and throughout the month of F4CJ -- we will share information about climate issues and candidates on the ballot in November and actions people can take to support climate justice in Colorado. We're teaming up with groups like the Citizens Climate Lobby who will be at the Farmer's Market that day as well and are partnered with the Environmental Voter Project. They have been working hard to get out the climate vote this election season.
Faiths 4 Climate Justice is a global, multi-religious action led by GreenFaith, a world-wide climate and environmental movement. From October 2nd through November 6th, just before the G20 summit and U.N.'s COP27 conference, spiritual and religious groups will go peacefully and prayerfully to centers of social, economic and political power.
We are rising together to call for:
- An immediate end to new fossil fuel projects and deforestation
- A rapid transition to 100% renewables and a fair phase-out of fossil fuel
- A commitment to a just transition for impacted workers and climate-vulnerable communities
Boulder County and the state of Colorado must do more to make this a reality! Together we have the power to create a more just, compassionate, and loving world.
Join us in this sacred action and help spread the word
to VOTE and ACT for CLIMATE JUSTICE!
Follow us on Facebook and Instagram
@greenfaithboulder
Tag
#Faiths4Climate
#F4CJ
#Faiths4ClimateJustice
@greenfaithboulder
...................................
SCHEDULE and ROUTE
10:30am Opening Dedication & Drum Circle
at south side of Boulder Creek across from the Boulder International Peace Garden next to the Boulder Public Library
10:50am March to Central Park (next to Farmer's Market)
11:00am Vigil in Central Park
11:10am March to corner of Broadway + Canyon
11:15am Join in Rocky Mountain Peace + Justice Protest
11:30am March north on Broadway, east on Pearl St. Mall
11:40am Vigil at County Courthouse on Pearl St. Mall
with Spiritual Leaders, Songs and Speakers
12:00pm Closing Dedication
Starts on
Saturday, 15 October 2022 at 10:30 AM MDT
Ends on
Saturday, 15 October 2022 at 12:00 PM MDT
Boulder International Peace Garden (meet at south side of Boulder creek off Arapahoe)
Boulder, CO, 80302
United States
Get Directions