Faiths 4 Climate Justice: at the PM's doorstep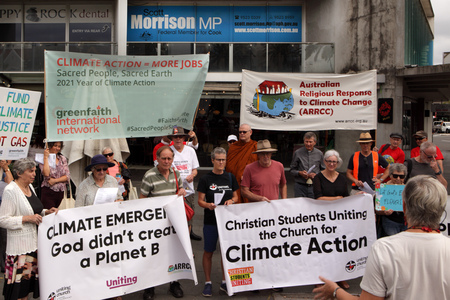 Join people of faith who are calling for action on climate justice from the Australian Government. We will be ringing bells, singing, praying and meditating along with faith leaders, and holding up signs with our messages. Media will be invited. This will be a COVID-safe event so all attendees must be fully vaccinated.
We will call on Prime Minister Morrison to ensure Australia takes higher emissions reduction targets to Glasgow, and re-starts contributions to the Green Climate Fund for developing countries. We also want to see a rapid shift to 100% renewables, an end to deforestation and assistance to local communities to diversify their economies away from coal and gas projects.
Rise with us this day, two weeks out from crucial UN climate talks. Please come prepared for a family-friendly, COVID-safe event. For COVID-safe rules after NSW reaches 70% fully vaccinated, see https://www.nsw.gov.au/covid-19/freedoms-for-fully-vaccinated-people
Starts on
Monday, 18 October 2021 at 8:15 AM AEDT
Ends on
Monday, 18 October 2021 at 9:30 AM AEDT
30 Kingsway
Cronulla, NSW, 2230
Australia
north end Cronulla Plaza. The site is in easy walking distance from Cronulla Station.
Get Directions